The Armory Show
Eric-Paul Riege
September 7–September 10, 2023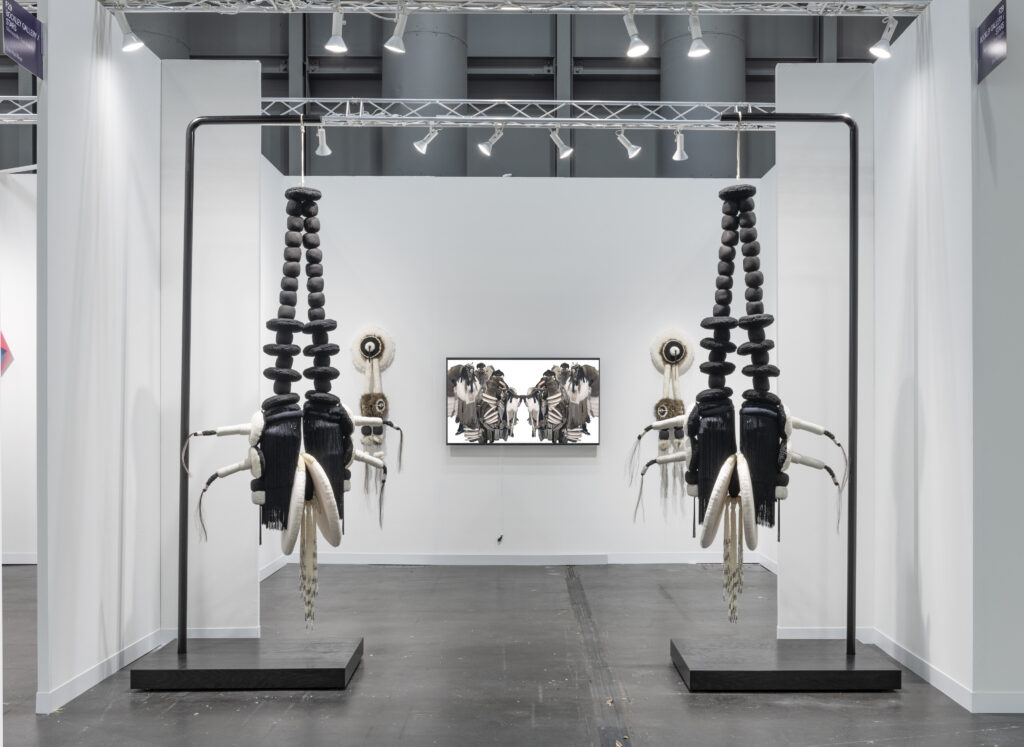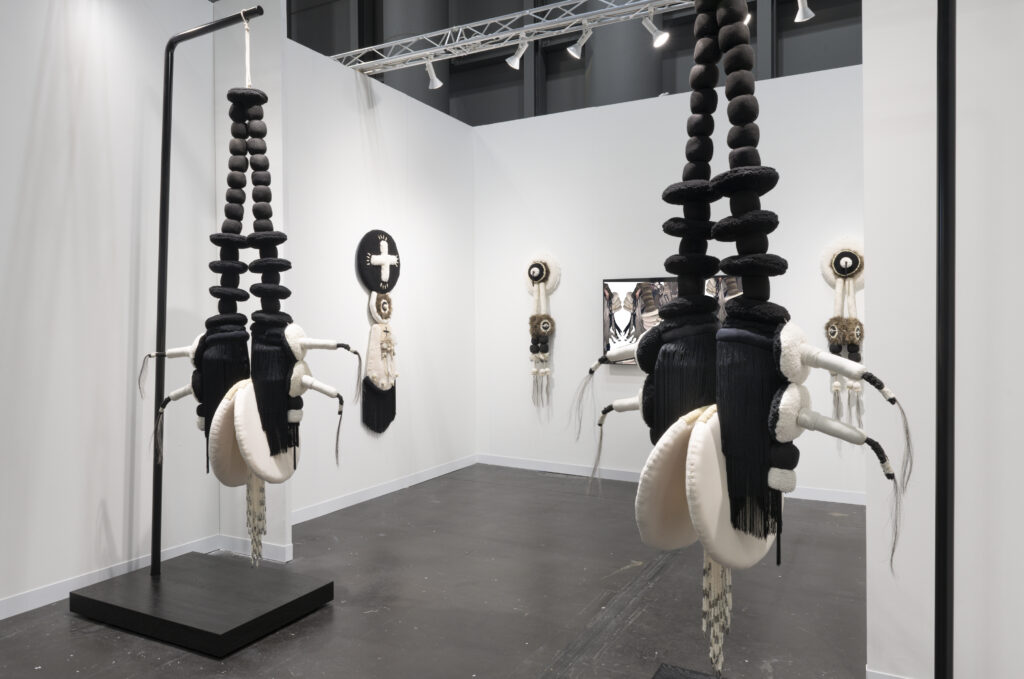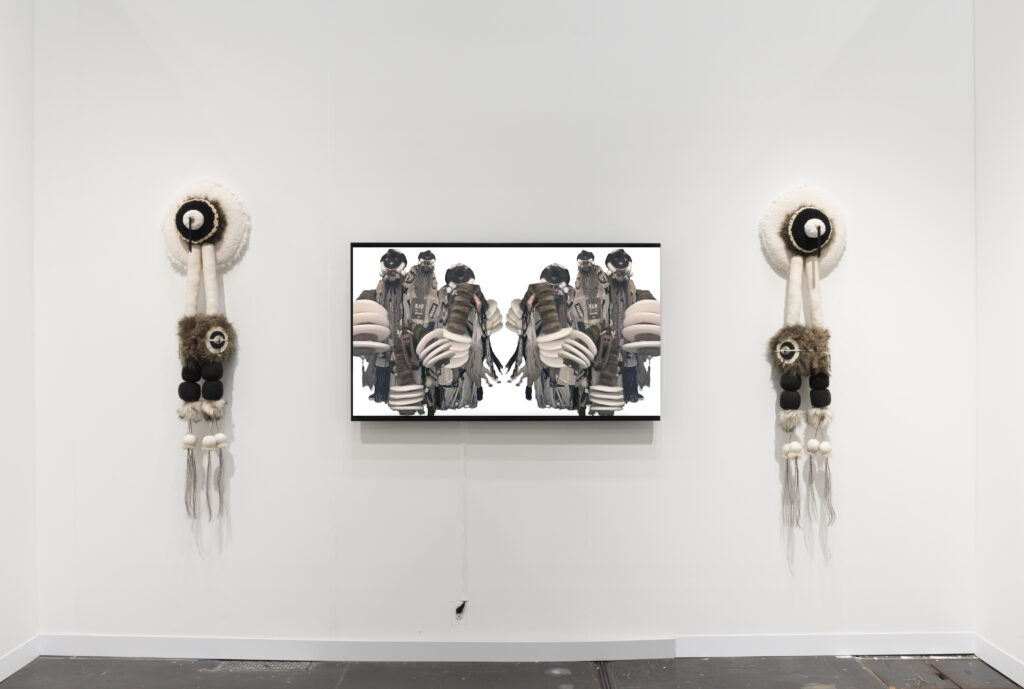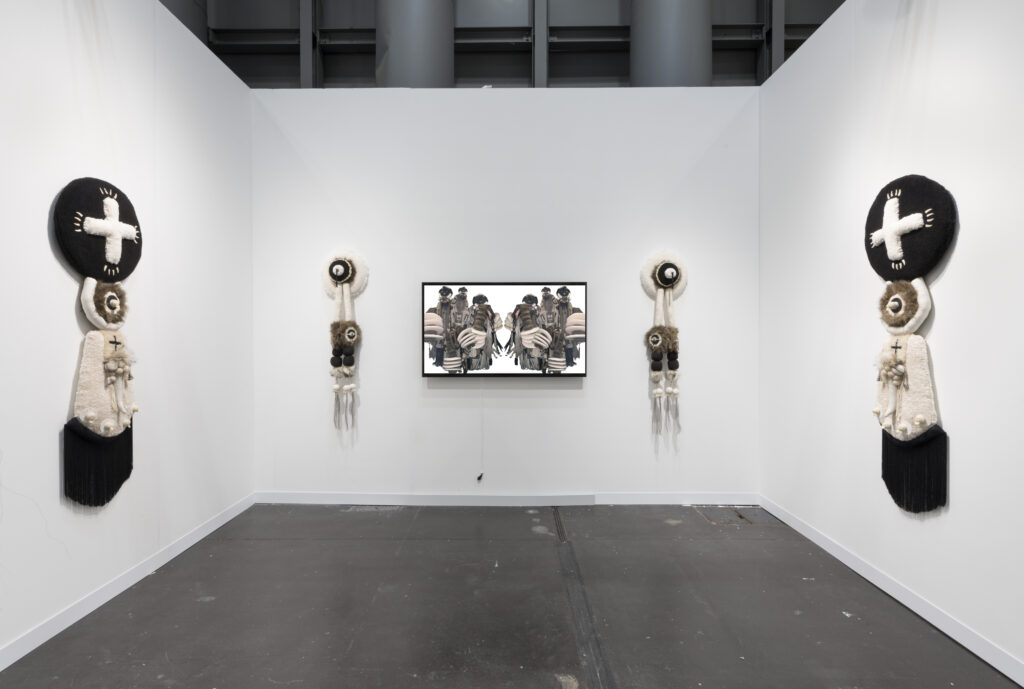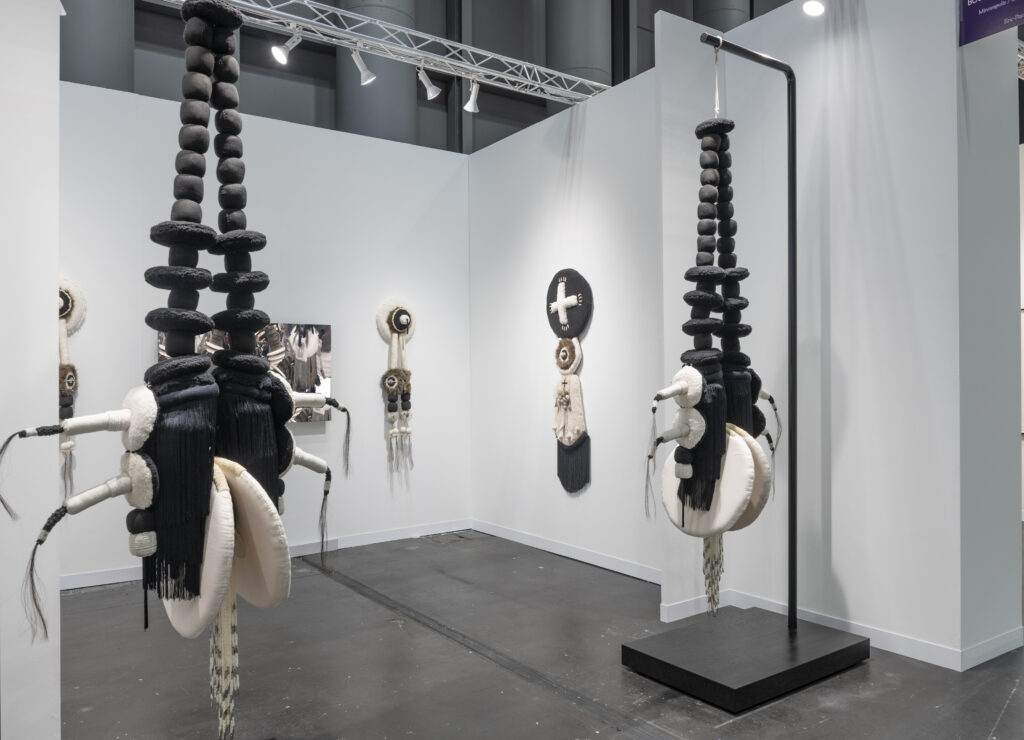 Bockley Gallery and STARS are delighted to present new work by Eric-Paul Riege (Diné) at the Armory Show in Focus booth F29.
Eric-Paul Riege's practice in soft-sculpture and durational performance honors and embodies his lived experience in relation to ancestral traditions in weaving and adornment, especially those passed down from his maternal family. As both a carrier and protector of knowledge, Riege creates new forms within the Diné (Navajo) worldview of hózhó, which encompasses the values of beauty, balance, and goodness in all things seen and unseen, in physical and spiritual realms.
New sculptures and video for The Armory Show 2023 extend Riege's thinking with histories, economies, and cultures of the marketplace, especially as related to authenticity and what is perceived as authentically Native American. He notes that what is less seen in time and space—what is decayed and has lost pigment—is often considered most authentic and valuable. Subverting this ethnographic entrapment, his nearly achromatic tonal range honors birth, life and survivance. Black, browns, and beiges approximate human skin tones and the hair of churro sheep – a sacred animal to Navajo communities whose population was nearly decimated by the United States government in the 19th and 20th centuries in an effort to destroy Navajo livelihood.
Further countering expectations around value and spectatorship, Riege enmeshes the precious and non-precious: hand-spun churro wool with faux fur, horse and synthetic hair, cashmere and polyester, plastic deer teeth and glass beads. His ongoing series of large-scale earrings, or "ear rope for the big gods/monsters" in Diné, mimics and embellishes the traditional looped form of stacked beads. The pairing that is jaatloh4Ye'iitsoh [15-16] has a rhythm of spherical and oblate bead-forms that support spider leg–like extensions, while black fringe and tin cones used as sound and meaning-makers invoke regalia traditions. Suspended on display stands, jaatloh4Ye'iitsoh [15-16] maintains a practice common in Diné weaving to leave an opening or line as a pathway to futures for Spider Woman, the Creator.
Welcoming the animate, Riege considers his sculptures as living beings, thus ever-changing and changeable over time. Two pairs of medallion-topped earrings, Hólǫ́'s Rattles, the Yáhzí 1z [1-2] + [jaatłohYe'iitsoh] and Hólǫ's Rattles, the Yáhzí 1z [3-4] + [jaatłohYe'iitsoh], were born from the remains and off-cuts of previously activated and newly adorned soft-sculpture regalia, parts of which the artist performs in the single-channel video weaving dance[s], a segment performed for the screen (2023). As with his sculptural practice, Riege's video playfully embraces both high and low materials, technologies, and aesthetics. With reference to video game character building, slow AI movement, and glitchy Tik Tok time, the iPhone recorded weaving dance[s] conjures self-made ceremony within new cosmologies of the internet and its spectatorships.
An installation of Riege's work is currently on view in Indian Theater: Native Performance, Art, and Self-Determination since 1969, curated by Candice Hopkins (Carcross/Tagish First Nation) at the Hessel Museum of Art, Annandale-on-Hudson, New York.
Eric-Paul Riege (Diné/ Charcoal Streaked Division of the Red Running Into the Water clan) holds a BFA in Studio Art and Ecology, with a minor in Navajo linguistics, from the University of Albuquerque, New Mexico (2017). Solo exhibitions include Hólǫ́llUllUHIbI [duet], Hammer Museum (2022–2023) and Hólǫ́—it xistz at ICA Miami (2019). His solo performance, Weaving Dance (2023), is forthcoming at the National Gallery of Art, Washington DC. Recent group exhibitions include Indian Theater: Native Performance and Self-Determination since 1969, Hessel Museum of Art, New York (2023); What Water Knows, The Land Remembers, Toronto Biennial of Art (2022); Prospect 5: Yesterday we said tomorrow, New Orleans (2022); and SITElines Biennale by SITE Santa Fe (2019). Riege's work is in the collections of Denver Art Museum, Forge Project, Hammer Museum, ICA Miami, LACMA, among others. Born in Na'nízhoozhí (Gallup, New Mexico) in 1994, Riege lives and works in Na'nízhoozhí.