Tiny Shells Colliding
Rachelle Sawatsky
April 13–June 8, 2019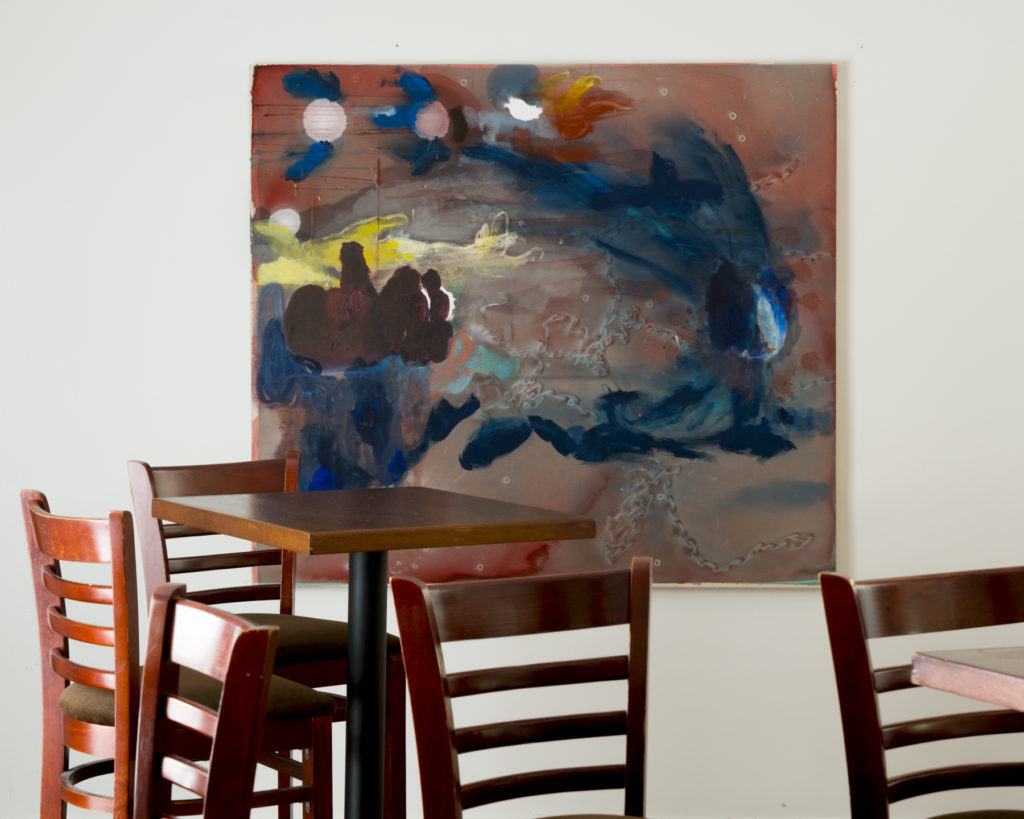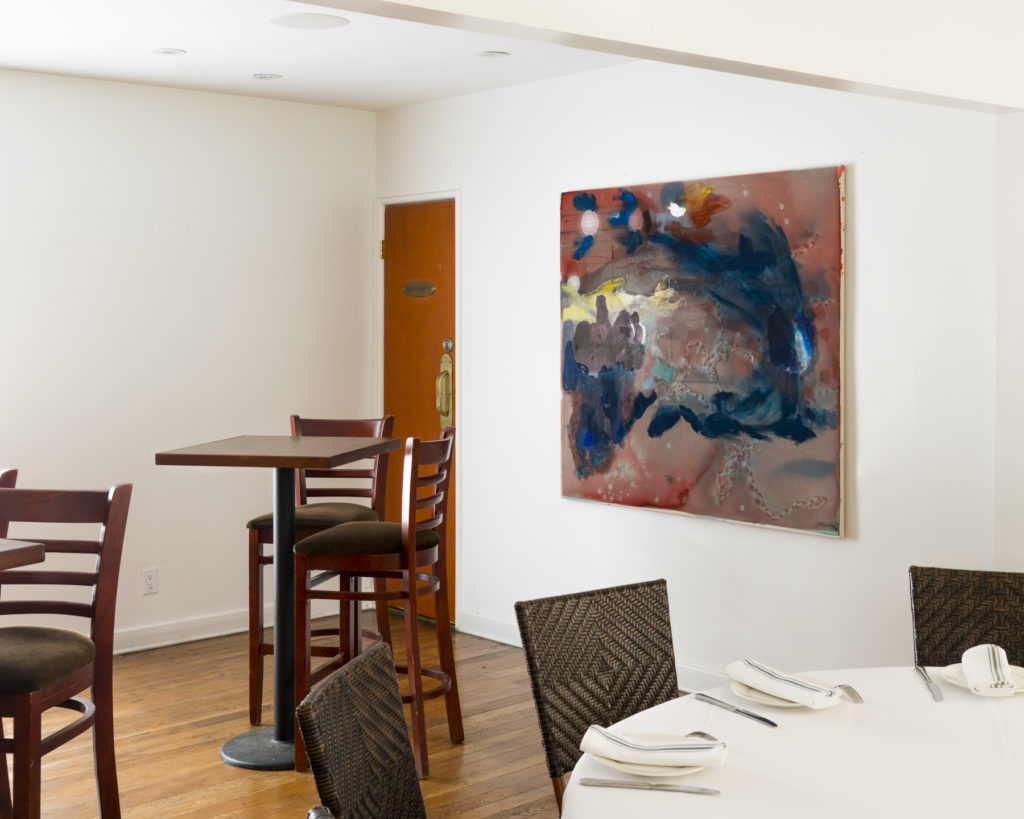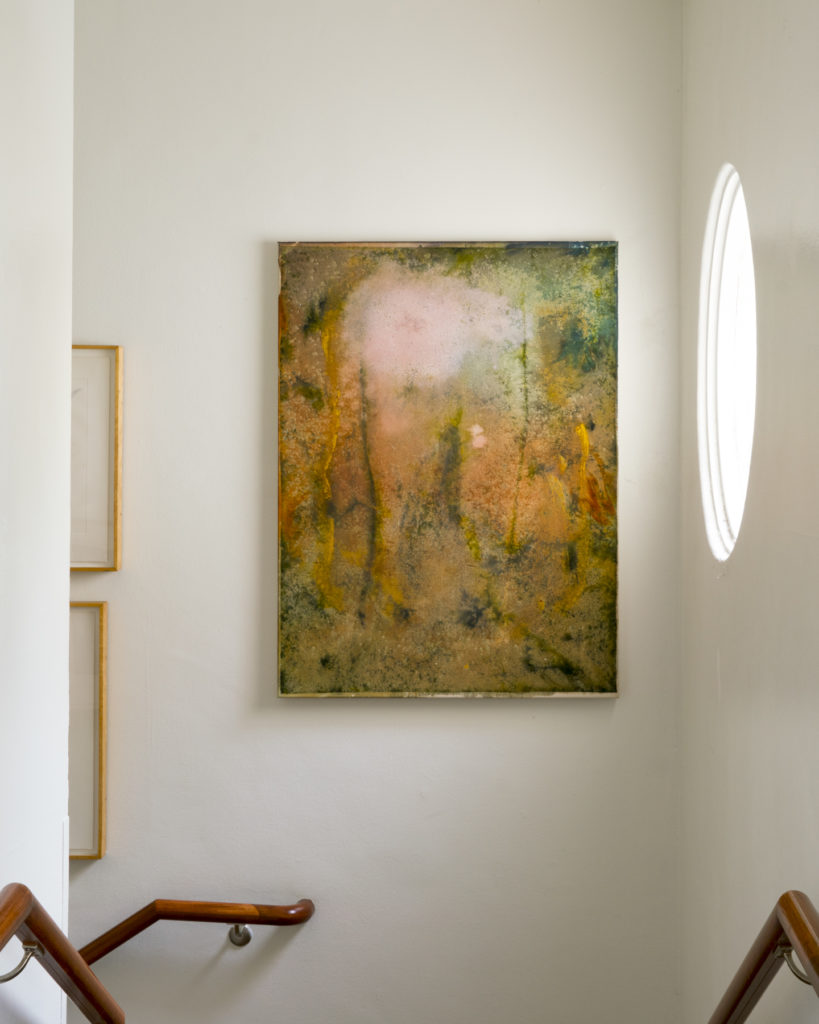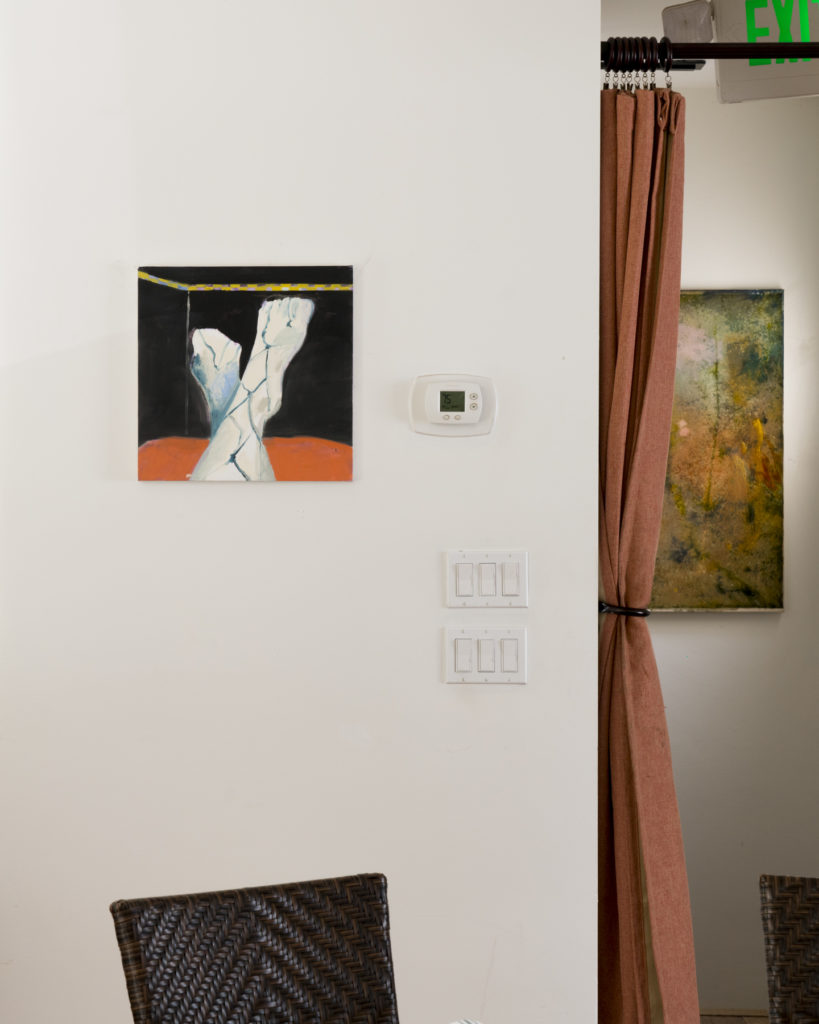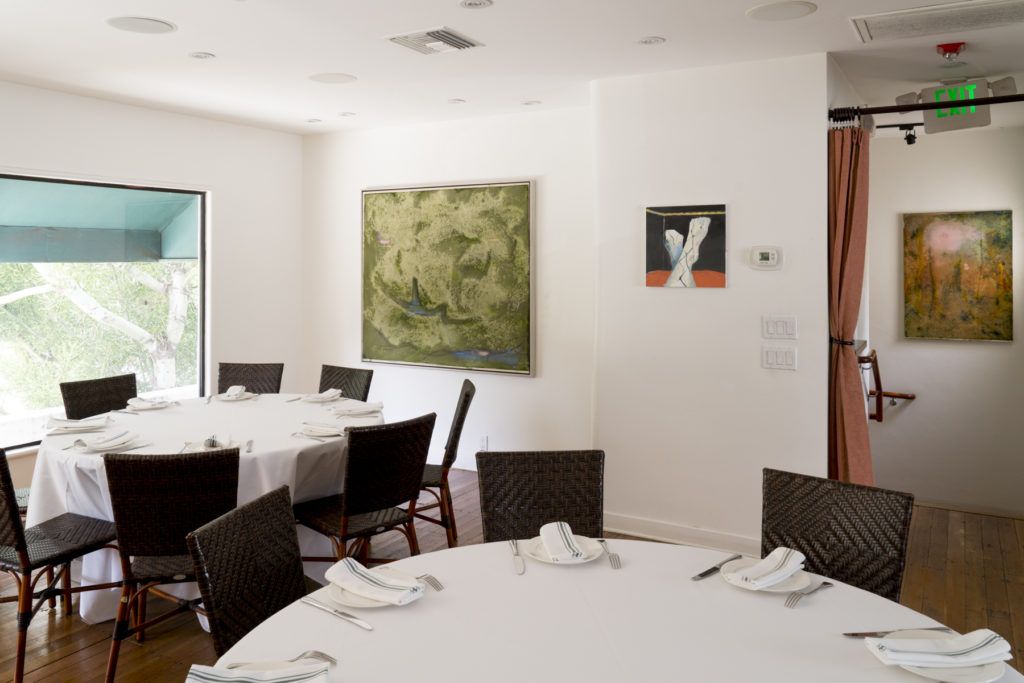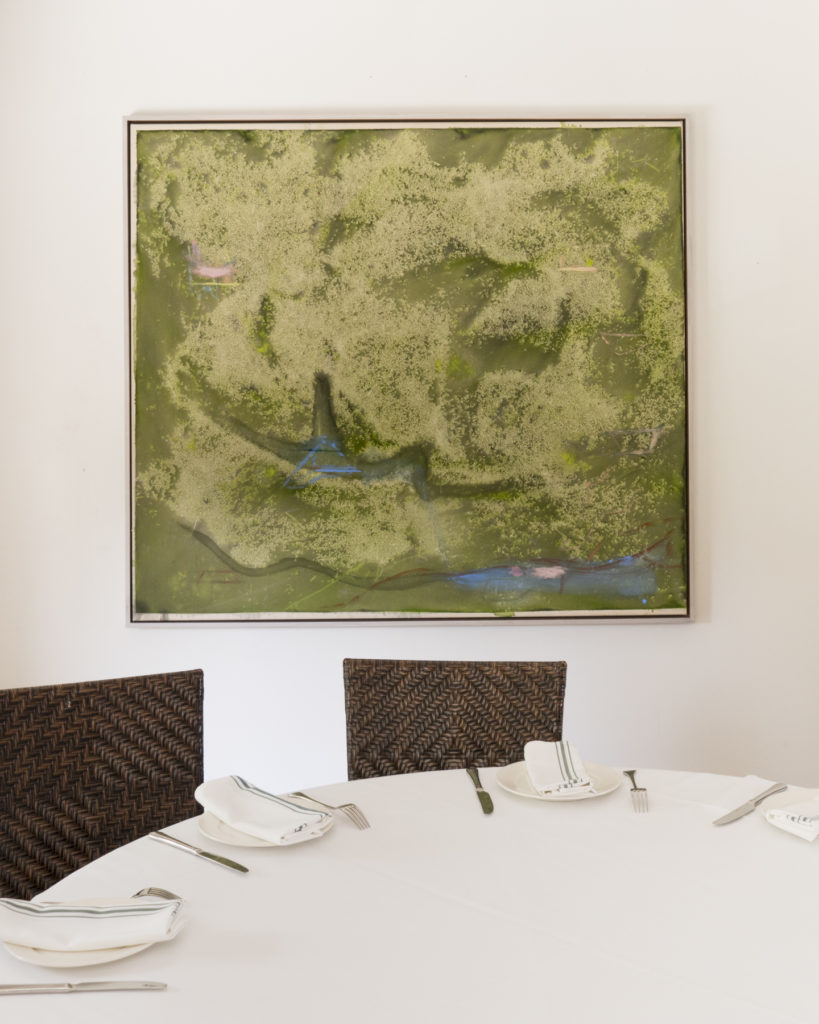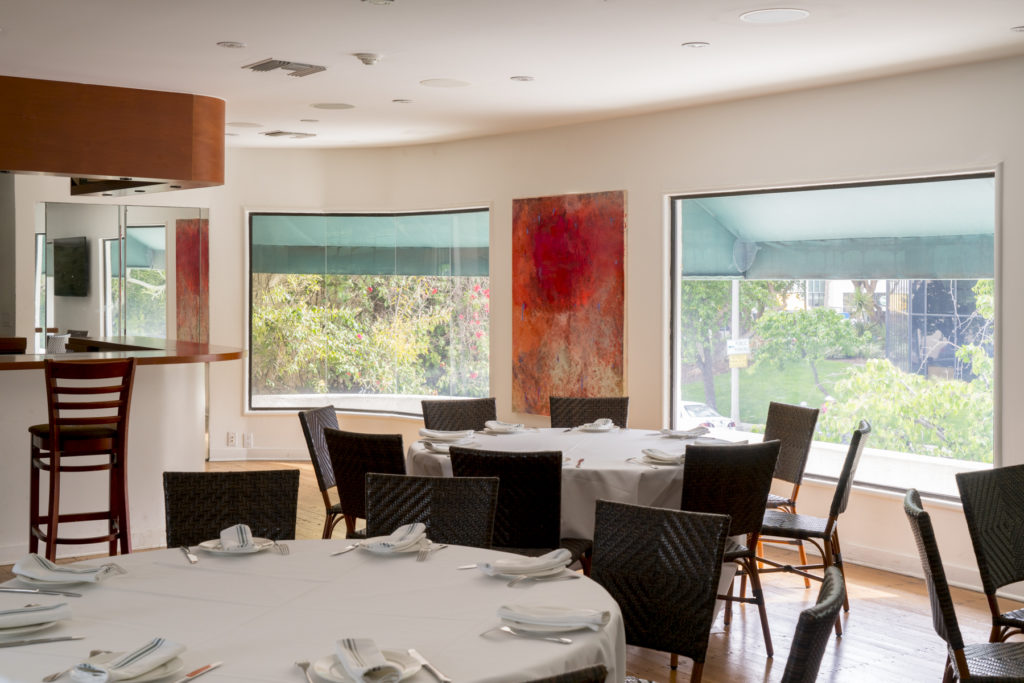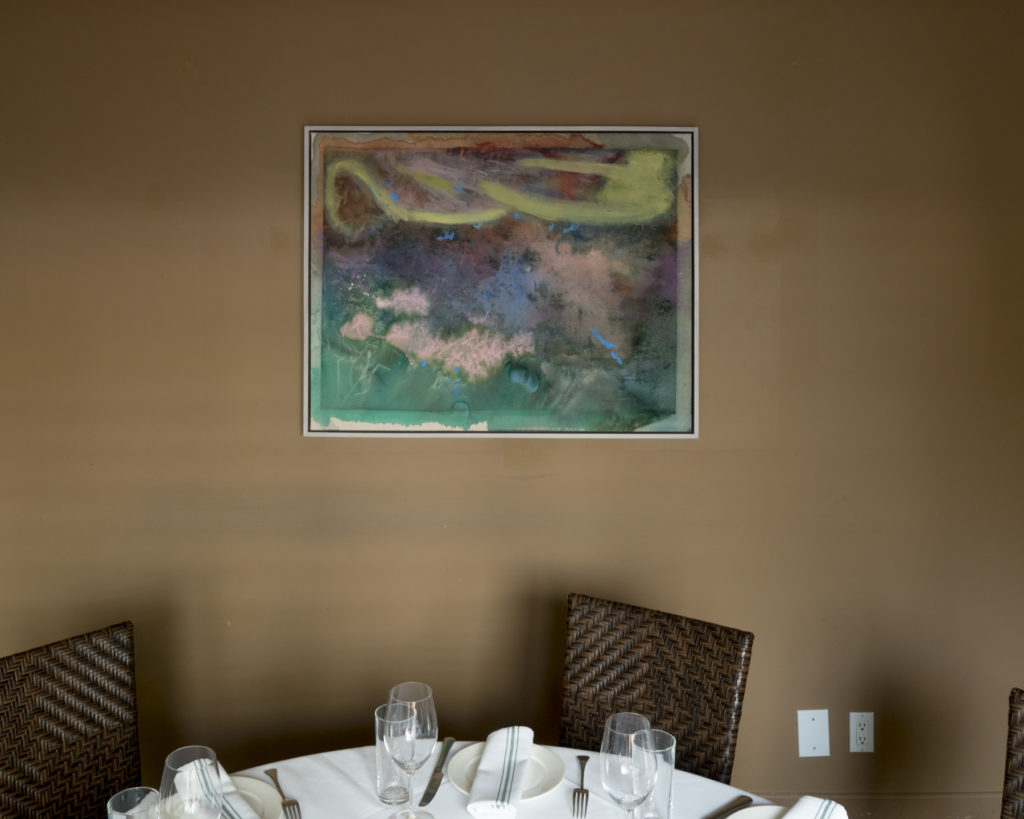 Starting a painting is like unravelling a ball of yarn. You are curious of how long the yarn will go. You have no idea about whether it will unravel effortlessly or whether it will offer knots needing careful finesse and patience to undo them. You have a sense that you are 'organizing it' by following the line, but in effect you are also messing things up when you look down and see the tangled heap of everything that you've touched lying at your feet.
Visual language has its own syntax to toy with. You find yourself looking forward to the knot whose snag poses a new problem.
Each painting begins the same way but is solved differently.
All the paintings in this series start with things on the ground that could be strewn, spread out or found in situ: hay, sand, chains. Something about a messy structure that retains its shape by watercolor pigments set on the canvas. Sometimes the traces of water remain, pulling outwards towards the edges before evaporating, as if to say something happened here.
The overlapping colors of paint render the silhouettes of the materials into illusions. Color is the organizing mechanism that enacts varying depths of field, creating moments where suddenly everything is flat, or shallow or deep, or even colliding into each other in a single painting. It compels you to see something from a perspective that is so close or so far away as to see the whole picture.
I don't know what the whole picture is. Sometimes I think that the surface of my own hand, or another's in front of my face is closeness. My breath fogs up the glass. I see sparse landscapes with only the bare minimum of features. I want to give each painting autonomy even if it means that each painting is continually reframing or contextualizing the one next to it, almost pulling the rug from under it, so to speak. Each painting maintains its own repertoire of moves taken.
All the colors I use together are muted. When different colors sit next to each other they are like suspended planes of glass pulling in different continuums.
The first time I lived away from the ocean, I took a train going west out of the city with the hope of seeing a long horizontal line that I could imagine was the ocean. I saw immense green fields meeting a turquoise sky and got off. There were huge billboards of beauty advertisements near the train line and close by an Ikea outlet next to a trailer park. I ate a hot dog and sat down to watch the sky. Underneath the dirt was a mirror that turned the sky into the sea.
– Rachelle Sawatsky
—–
Rachelle Sawatsky is an artist and a writer based in Los Angeles and Vancouver. Her solo and collaborative work encompasses painting, writing, ceramics, drawing and movement. Recent solo exhibitions include China Art Objects, Artist Curated Projects, Harmony Murphy Gallery in Los Angeles and at the Material Art Fair in Mexico City. Her work has also been included in group exhibitions at the Tate St. Ives, the Vancouver Art Gallery, and Galerie Mezzanin in Vienna as part of the Curated By Biennale.